Deepen You:
Fall Weekend Retreat for Your Soul

Catskills, NY
October 4 - 6, 2019  |  2 Nights 3 Days
Registration not open yet, but please email with inquiries.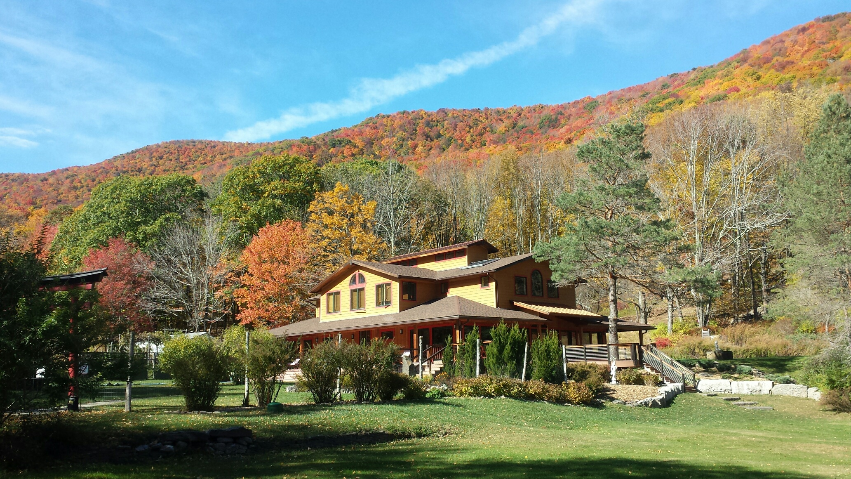 Georgette is thrilled to be returning to Menla Mountain Resort for a weekend full of yoga and friendship at the breathtaking 320-acre Catskills NY forest preserve. Come and escape from the everyday stresses of life, and nourish your health and well-being for the upcoming winter.
Fall is the perfect time to get grounded and practice purification and cleansing techniques to prepare for the changing season.  This retreat may be one of the most important things you do for yourself all year.
All yoga levels welcome.
See details and accommodation options below.
Please send an email to TheDalaiMammaLife@gmail.com to note interest.
Your Weekend Includes:
2-night stay at the Menla Mountain Resort (see accommodation options below)
Homemade, locally grown gourmet meals (vegan, gluten-free, and other options available)
Morning meditations
Dynamic Vinyasa flows (all levels)
Evening nurturing Yin yoga
Deepening You satsang discussion and sacred healing movement practice
Bonfire ceremony
Note that all of the activities are optional. You're encouraged to listen deeply to the stirrings of your soul and be directed from within.
Also Optionally Enjoy:
Ample time for relaxing outdoors near the lake
Wandering the hiking trails
Immerse yourself in the Tibetan-inspired destination spa for healing treatments
Accommodation Options:
There are a limited number of each room type below. All prices are per person.
2- Story Private House with living room, kitchen, sundeck, etc...  This was the Dalai Lama's residence when he visited Menla in 2006. All rooms have twin beds and shared bathrooms.
Single bedroom -

(1 twin bed)

Double bedroom (2 twin beds)
Triple bedroom (3 twin beds)
Quad bedroom (4 twin beds)
Deluxe 2-story chalet style housing - shared bathroom with only 1 other double room
Double room (2 twin beds)


* or entire room for 1 person as a single



Deluxe Double Inn - with private bathroom

Deluxe Single Queen - with private bathroom
Room reservation must be paid in full. You can pay by check or Paypal link -> paypal.me/TheDalaiMamma
(please do NOT choose the Paypal goods and services option)
For more information or to register, please send an email to TheDalaiMammaLife@gmail.com.
2018 Catskills Weekend Retreat Gallery
"I finally understood "let go" and was able to embrace its power. Thank you so much for this gift."
"It felt as if I were driving home on a cloud."