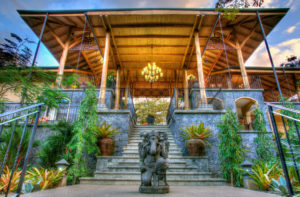 March 9 – 16th, 2019
Yin/Yang Yoga Retreat for Your Soul
with Georgette in Nosara, Costa Rica
SOLD OUT AND FABULOUS!! HOPE YOU JOIN US NEXT YEAR!

Pura vida! Georgette is thrilled to be returning to Nosara in March 2019! Come experience the pure life at the Bodhi Tree Yoga Retreat and Resort sanctuary in the foothills of Nosara and a short walk to the untouched beauty of Playa Guiones for surfing, shell collecting, or just being.  This all-levels 7-day yoga retreat will nurture your soul and encourage you to re-connect with the deep magic you already embody. Engage in a week of self-inquiry with inspiring vinyasa flows and nurturing yin yoga yummy-ness.
My teaching style is fun, encouraging self-acceptance and mindful alignment with the goals of creating internal strength and space for growth.  You'll be challenged to think less and feel more, learn to look inside, and emerge more strongly at peace with the 'what-is-ness' of your life.
There will also be plenty of time to relax and refresh in the salt water infinity pool, explore the jungle trails, visit the on-site first class spa, or go on day long adventures surfing, zip-lining, horse back riding, or doing absolutely nothing.
---
What's Included
·        7-night stay at the luxury Bodhi Tree Yoga Resort (all rooms air-conditioned with wi-fi)
·         3 gourmet organic meals each day (Pescatarian, Vegan, gluten-free, and other options available)
·         Morning dynamic Vinyasa flows
·         Evening nurturing Yin yoga
·         Deepen You satsang workshop; optional sharing, journaling, and personal project work
·         Guest teacher Ashtanga Workshop
·         Closing sunset beach bonfire
·         Complimentary use of bikes to explore the town
·         On-site fitness facility and salt-water infinity pool
·         Local live music
·         13% Costa Rica taxes
Note that all activities are optional. You're encouraged to listen deeply to the stirrings of your soul and be directed from within.
---
Extras
·        Your airfare (to/from Liberia airport)
·        Transfers to/from resort (~ 2 hrs away) – transfer costs approx $45 per person each way when traveling with the retreat group
·         Optional excursions – surfing, zip lining, horseback riding, paddle boarding, and more... (we can coordinate these activities as a group)
·         On-site first class Spa services
·         Gratuities
---
Accommodation Options
All rooms have air conditioning, free wi-fi, fresh linens, housekeeping staff, and modern amenities.
There are a limited number of each room types.
·         Triple (shared bath, open air showers) - SOLD OUT
·         Double (shared bath, open air showers) - SOLD OUT
·         Single Suite (queen bed, private bath) - SOLD OUT
·         Single (king bed, shared bath) - SOLD OUT
·         Queen double bungalow for 2 (2 queen beds and a private bath) - SOLD OUT
·         King single or double bungalow (1 king bed and a private bath) - SOLD OUT


Payment via Paypal link -> paypal.me/TheDalaiMamma
(please do NOT choose the Paypal goods and services option)
Please email [email protected] to inquire about availability.
Gallery of our fabulous 2018 trip!
Join us this year, same beautiful place!